Treatment Options
We offer a variety of treatment options to fit your individual needs. Below is a quick guide to the different types of treatments that we offer. At your complimentary consultation, we will review the options that are best for you.
Metal Braces
Although metal braces are the traditional type of braces, there is nothing "traditional" about our braces. We use self-ligating braces, which have a small door on the bracket which makes your wire changes much faster and easier. These doors also make it easier to keep your teeth clean and healthy. The wires that we use are some of the most gentle wires on the market so you will have minimal soreness. Also, our wires work for a very long time so you will have many weeks between your appointments, meaning less time away from school and work!
Invisalign®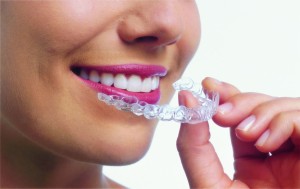 Invisalign uses a series of clear, removable aligners that gently straighten your teeth without braces. Since the aligners are clear and removable, there is minimal impact on your lifestyle. Invisalign is frequently requested by adults, but can be used by teenagers as well.
Limited Treatment
If only minor tooth movement is needed, you may be able to straighten your teeth with limited treatment. Depending on what is needed, your teeth may be straightened with a variety of ways. Limited treatment is perfect for those patients that had orthodontic treatment in the past and are in need of a "touch-up".